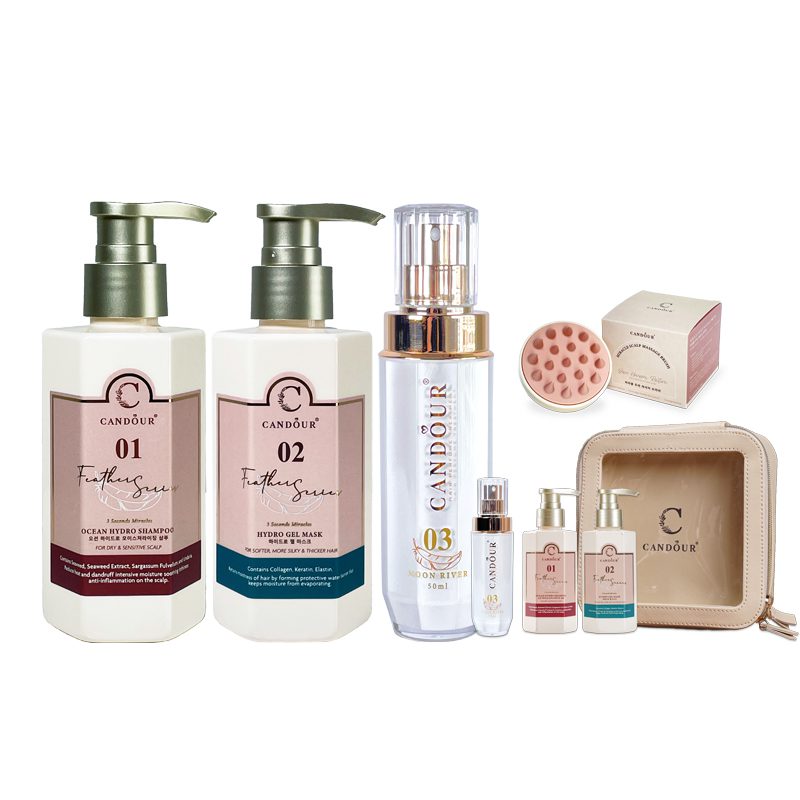 Candour
RM470.00
Ocean Hydro Shampoo 400ml + Hydro Gel Mask 200ml + Moon River 50ml + travel set  FREE comb
Click Here to purchase
Using deep sea ingredients such as algae, seaweed, kelp, and sargassum to provide restoration on our hair. Deeply moisturize and protect our hair scalp and prevent hair from moisture loss. Perfectly moisturize and restore damaged hair, strengthen and nourish every strand of hair. CANDOUR Feather Series perfectly nourish & moisturize hair from scalp to the ends of your hair, strengthen every strand of your hair to be more elastic, tought, shiny and supple. The deep sea secret- Marine Ingredient making sure your hair will perfectly hydrated and moisturized throughout the day.
Sargassum Fulvellum
Sargassum Fulvellum extract contains egg white, fats, cellulose, minerals and calcium. Hair is mainly composed of protein, elastin contained can keep the hair elastic. Polyphenol peptide that is named "Seanol" is the main ingredient that protects hair cells, and hair scalp health.
Laminaria Japonica
Laminaria Japonica is extracted from deep sea reefs. kelp extract promoted very high moisturizing properties as it can still maintain life after low tide. It can help to protect the damaged hair and damaged scalp. Main function is to prevent dandruff and itchy scalp. Ocean Hydro Shampoo has a low pH value between 5.0-6.0 (Mild and Neutral) to ensure hair scalp has perfect oil and water balance.
Seaweed Extract
Seaweed Extract provides a high moisturizing nourishment to keep hair hydrated. Kelp has antibacterial properties which allows it to be deeply clean and avoid clogging on scalp pores. Prevent harmful bacteria from invading hair scalp and cause scalp problems. Eg: Sensitive scalp, hair loss, itchy scalp, red spots on the scalp.
Stearic Acid
Stearic Acid is one of the foundation formulations for Hydro Gel Mask. Stearic acids act as the thickener, stabilizing the amount of foam in the hydro gel mask. As a surfactant, static acid has a powerful deep clean ablity. Surfactant can help in reducing the surface tension of water so it could easily mix with grease and dirt on the developed surface.