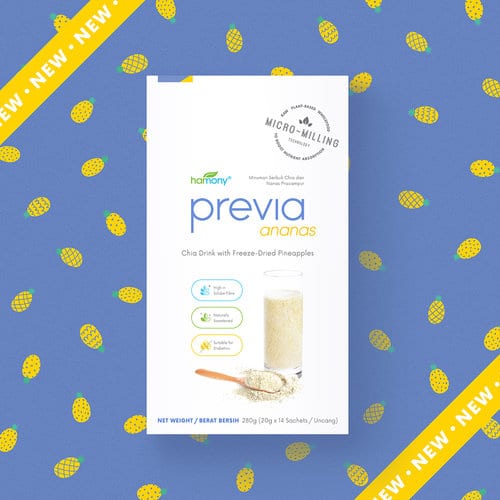 Previa Ananas
14 sachet MIX With BerryNice
RM77.80
We all know pineapples are good for our body, but who knew pineapples could elevate the taste of plain chia drinks to such extent?
A blend of cold micro-milled, premium organic chia seeds, soluble fibre from non-GMO corn and freeze-dried local, naturally sun-ripen pineapples, our Harmony® Previa Ananas makes chia seeds even easier and much more interesting to consume without losing its great nutritional value. Boasting better digestibility, richer dietary fibre content and anti-inflammatory properties than chia seeds alone (thanks to the freeze-dried pineapples), Harmony® Previa Ananas now enables your body to absorb the nutrients faster, easier, and more efficiently.
It is light, refreshing and appetising. It is an incredible result of not two, but three nutritious foods, thoughtfully planned and designed to fit perfectly in a modern society.
Discover the benefits of chia seeds and how important soluble fibre is.
click here to purchase